The PevcoBeam™ delivery management station makes the process of sending and receiving specimens, drugs, and blood products throughout a hospital fast, safe, and simple.
We worked with the Pevco Systems International Inc. team to design and develop their next-generation delivery management station. After studying the human factors and design requirements, we realized it could be the first ADA-compliant station on the market. We developed numerous initial concepts and rapidly fabricated a low-fidelity, cardboard mock-up of the prototype to allow the Pevco team to easily move the user interface display and carrier storage to different positions since they were mounted with magnets. With the main component locations confirmed, we fabricated the next version of the prototype from plywood. At that stage of the development, we tested the geometry of the custom-designed ramp for carrier landing to make sure the carrier rolled over to the designated location. We also worked with the Pevco marketing team to provide photo-realistic renderings of the product to gather feedback prior to finalizing the design.
Based on the feedback gathered throughout the product development process, we designed the user-facing components to be thermoformed from easy-to-clean and seamless materials to contain any biological spills and retain its appearance after years to hard use. The structural shell was designed from sheet metal with mechanical fasteners instead of welding to ensure simplicity in assembly and servicing while retaining strength and rigidity. Because the stations are often installed near recovering patients, we tested different types of sound absorption materials to reduce the noise of station operation.
The team at Pevco is excited to install their next-generation delivery management stations. To find out more about their products and get a look at one of the complex systems that help hospitals run more efficiently, visit https://pevco.com/products/station-management/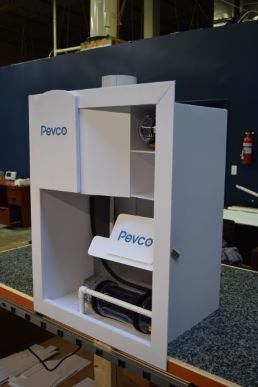 DESIGN FOCUS
Ease of Use
Quiet Operation
Spill Containment
Design for Manufacturing
FABRICATION
Sheet metal
Thermoforming
Injection Molding
CNC machining
Laser cutting
Custom Foam
Material selection