Safety and Protection for Medical Professionals
We worked with Drape Medical, LLC to quickly design and fabricate a prototype protective drape to cover patients and protect medical professionals during necessary procedures. As medical professionals fight to care for victims of COVID-19, many are not properly protected against procedures that remove tubes from the mouth/throat and aerosolize the virus. After being exposed, medical providers can become ill themselves, making them ineligible to work or even endangering their lives. To help eliminate this risk, the drape was designed with the intent of separating staff from the patient during certain medical procedures and to protect each other from the transmission of droplet or aerosolized viruses.
We received a couple of line sketches from our Customer describing their concept. By Day 3, we'd built a scale-model cardboard and saran-wrap mockup to evaluate the basic idea. By Day 6, we'd come up with a new concept and 3D model to start fabrication of the first prototype. By Day 9, we'd revised the design to improve fabrication and simplify deployment. By Day 13, we'd fabricated a third prototype, shown in the photos, using materials we had in stock and others we were able to have delivered during the stay-at-home orders and shut-downs worldwide. The whole process from "we have a concept to help with COVID-19" to "here's a prototype for you to evaluate" took less than two weeks. Normally, the process from concept to initial prototype can take many weeks or months, but during a global pandemic where tens of thousands of people were being infected daily, we couldn't move fast enough.
Drape Medical LLC is making it their mission to provide safe support for personnel in reaction to COVID-19 care, disaster response, and military medicine. Go to https://www.thecarecove.com/ to find out more and help support their effort to move the CareCove ™ to the front lines.
Recent Press
Technically Baltimore, Apr 16, 2020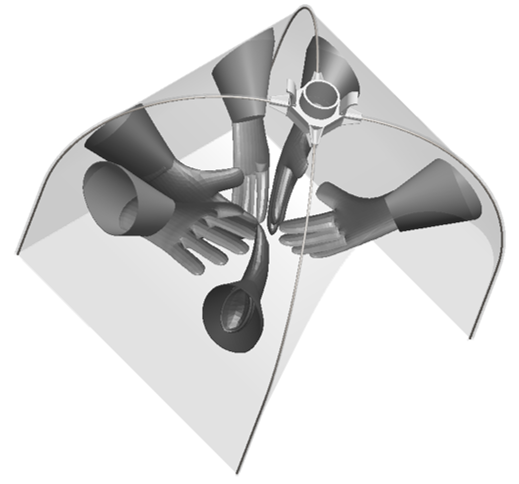 DESIGN FOCUS
Contain the virus
Protect medical staff
Single- use/ disposable
Free-standing device
Negative-pressure
Clear view of the patient
FABRICATION
Pop-up structure
Compact foldable design
Quick-turn prototype