Welcome to '10 Questions with Root3 Labs',  a Root3 series where we take some time and give the spotlight to one of our team members to share a little about themselves, their work, and a little advice for other engineers. This month's edition features Admin Assistant Dionna Moore.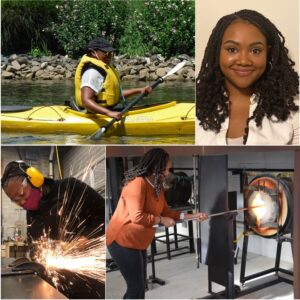 Dionna has a background in administrative/ clerical work as well as order processing in a manufacturing environment. After taking some time off from school, she is currently pursuing an electrical engineering degree and hopes to work with electronics in the future. Other than her passion for learning, she enjoys Action and Sci-Fi movies, DIY home improvement projects, and playing with her cat Josie.
Ms. Moore…
1. What's one professional skill you're currently working on?
Completing tasks before starting a new one. Most of the time, I have about 2-3 tasks that I'm juggling at a time and sometimes I start a task and get so focused on that one project that I forget to go back and complete the previous task.
2. If you could have three apps on your smartphone, which would you pick?
Music, Messages, and Maps. I love listening to music- its my happy place, messages to keep in touch with family, and Maps because without it I be lost half of the time.
3. What do you want to be remembered for?
Giving it all I got in everything I do and being at peace.
4. Do you see the glass half empty or half full?
Half full. I prefer a full glass but sometimes I get thirsty.  🙂
5. What's the biggest misconception people have about your position?
Not really about my position but when people find out what our company specializes in, they automatically tell me their idea and ask me how much it would cost to make that idea come to life and if they can get a discount on design/ CAD work because I work here. Or ask me to design/ make them something unrealistic or not practical.
6. When working remotely, how do you manage your day?
I try to start my day off regularly by writing out a list tasks on what I like to start or get done and how much time I should spend on each task. But I also have a cat whose roof I'm living under, so when she commands my attention, I must abide or she'll make it her mission to make sure I get no work done. Trust me, it's a healthy balance.
7. Do you prefer coffee, tea, or both?
I prefer tea. I drink coffee sometimes when I'm absolutely drained but I feel like I need double expresso shots and lots of creamer and sugar for me to feel the caffeine.
8. What's the one thing you're currently trying to make a habit?
Starting my day with daily positive affirmations instead of looking at my phone and looking at social media. Your thoughts are what you become so it's best to start your day with positive thoughts and what you can achieve.
9. Would you rather be able to play 10 different instruments beautifully or speak 10 different languages?
Play 10 different instruments beautifully. Although speaking 10 different languages fluently would be great for traveling, no matter where you are you can connect with people through music because it's a universal language that everyone can understand, at least that's what I hear.
10. What is the best advice you were ever given? Who was it from?
My grandfather always said take your time and move at your own pace. Don't compare your life to others, just live and be happy and the rest will come easy.
Thank You to Dionna Moore for participating in this month's '10 Questions with Root3 Labs' series and stay tuned for more interviews with other employees with Root3 Labs.