Let's talk logistics!
It's not often the most obvious element of running a business, but the logistics behind getting projects ready to ship can be critical. Something as simple as boxing up a piece of equipment may require careful deliberation and precise execution to ensure that whatever we're shipping is as secure as possible.
This past week we had to crate up a particular project that needs to go on a cross-country field trip for some off-site field testing. With over 800 pounds of aluminum railing, electronics, a programmable dolly, and plenty of supplementary equipment it took serious consideration on how best to pack everything up and send it across the country.
The 150 feet of aluminum railing was able to be broken down into segments and stacked to fill out the bulk of our custom crate. After building the crate up around the stacked railing, it ended up at about 10 feet wide and 5 feet high. This is where it really comes in handy to have our own wood shop within the Root3 Labs workshop.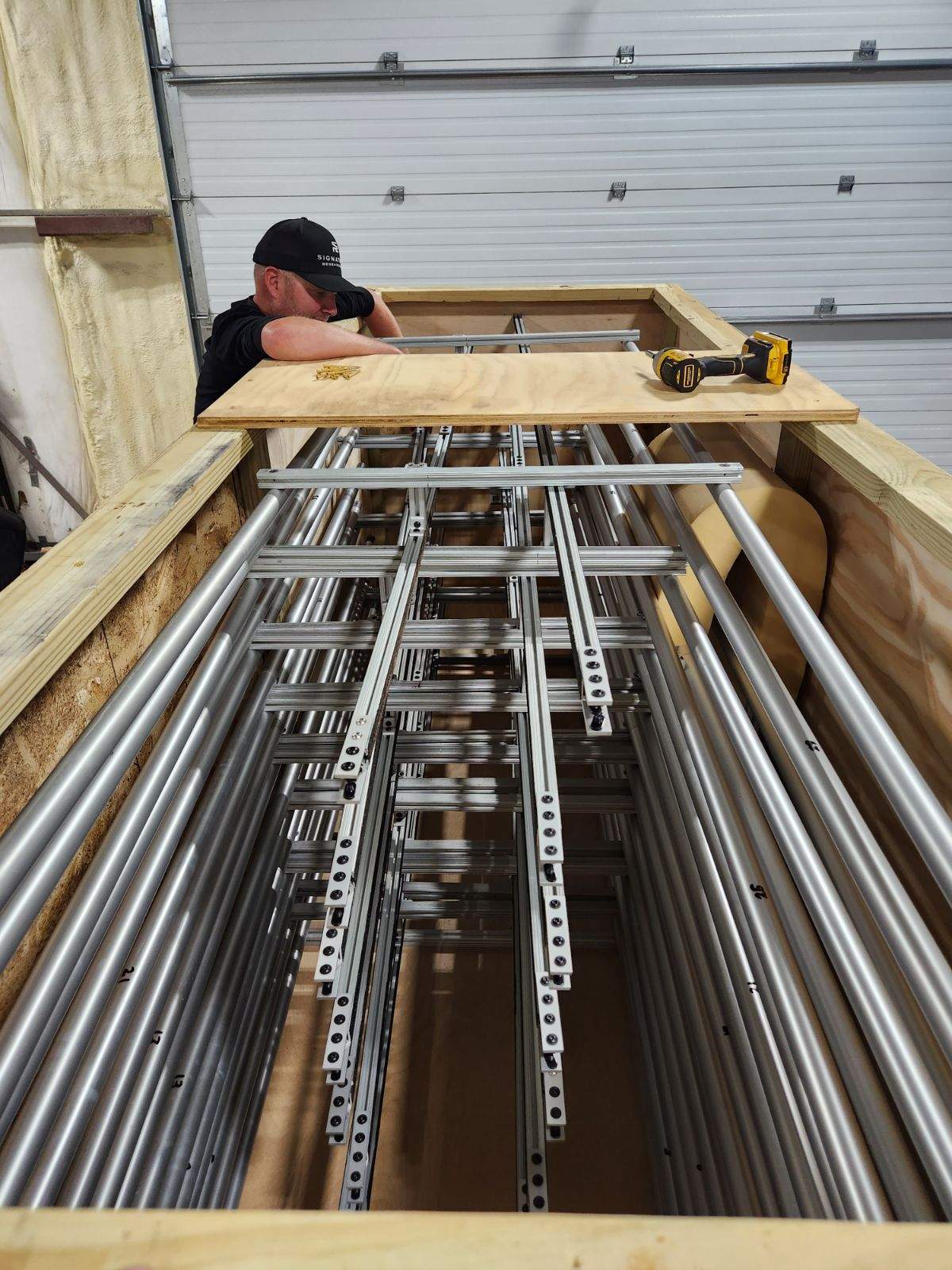 Being able to cut the wood exactly how we need it, when we need it is a great cost and time saver. In this case, we used pressure treated wood, similar to what you might use for deck-building, to ensure that the container would be durable enough to travel and could handle sitting out in the elements for a while between tests. The off-site testing for this project will be taking place in rugged outdoor conditions, so the equipment needs to be protected from the elements.
Along with the show-stopping 5×10 crate, there was also plenty of critical supplementary equipment that would need to go along. This included a programmable dolly system, motors and electronics, batteries and backup batteries, laptops to run the systems, and all the necessary tools. With sensitive equipment like motors, electronics, and laptops, we needed to come up with a way to securely house them for transport while still keeping things economical.
Again, this is where it can be great to have the ability to handle these situations in-house. We were able to densely set everything into a more reasonably sized 2 foot tall crate. Using the woodshop, we created custom inserts and padding to keep everything in place along with heavy-duty nylon strapping to provide tension to tie down any loose items.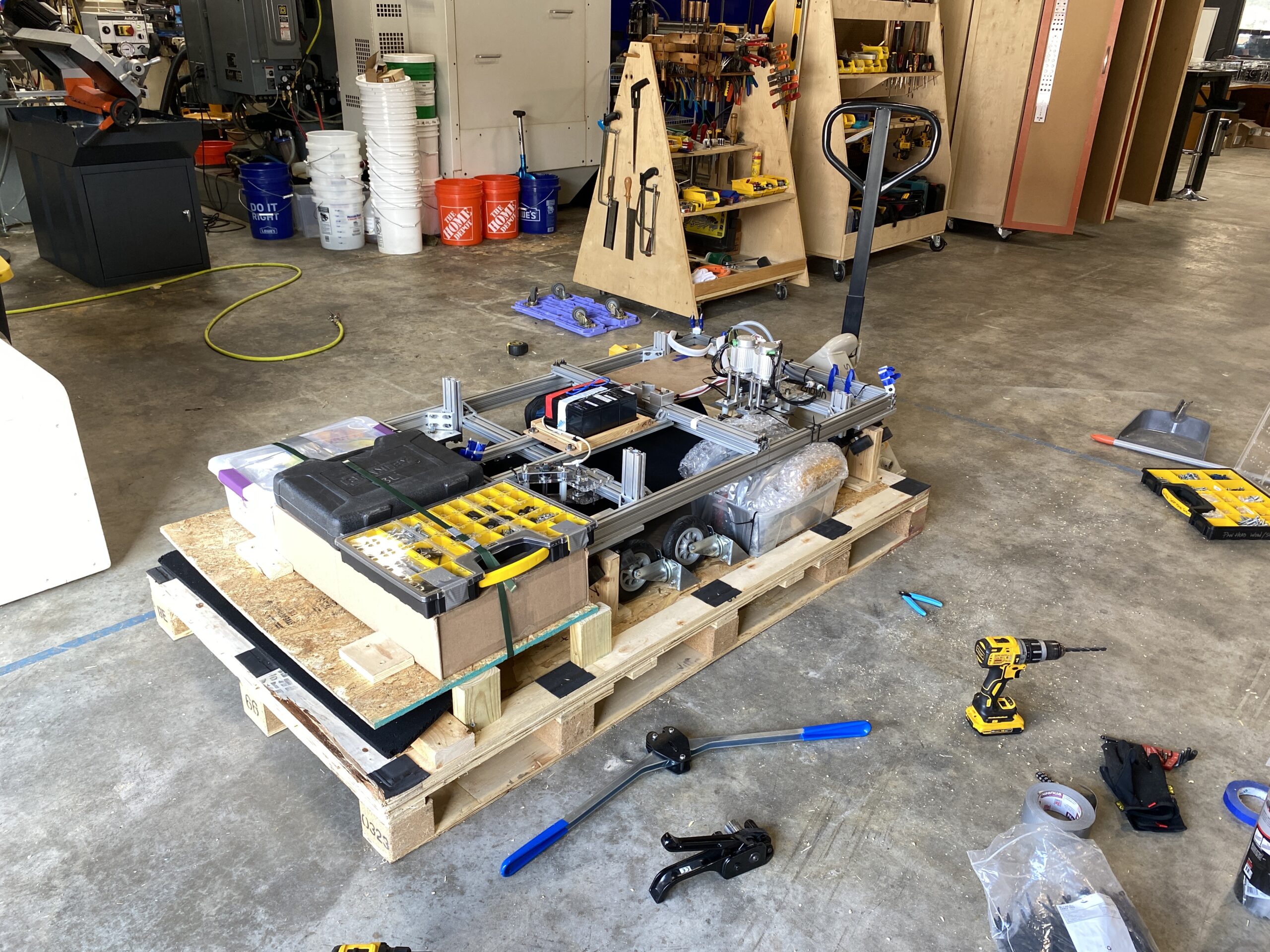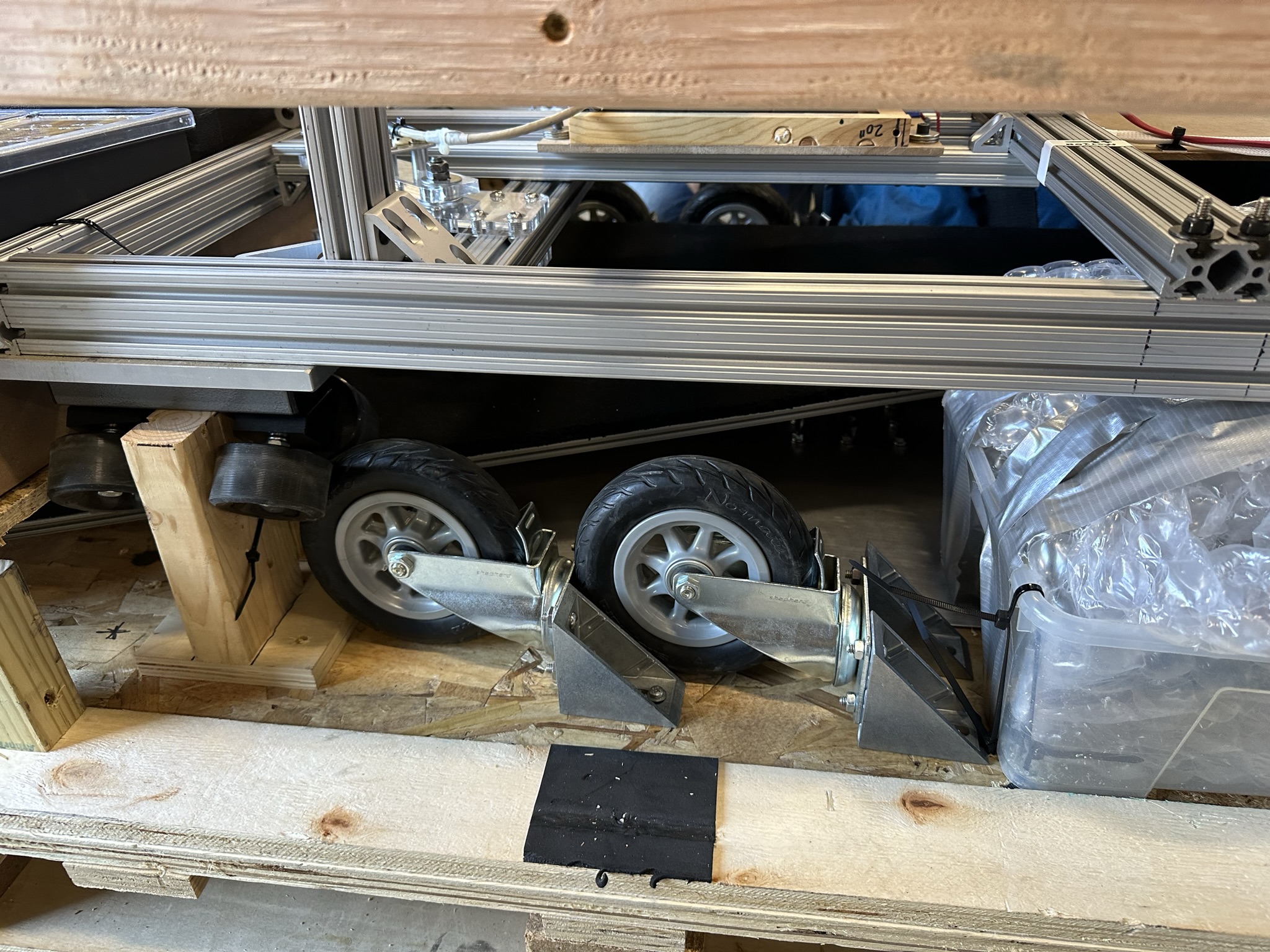 Flat-rate shipping kept the costs of transportation itself reasonable and timely. Everything departed our workshop and arrived at its destination across the country in only two days! This undertaking really served to highlight the importance of logistics, reminding us that even the most mundane tasks can significantly impact a project's overall success. Being able to handle the crating and transportation elements of projects ourselves means that we aren't at the mercy of another company's processing and shipping times, and we won't be on the hook for custom fit crates. We'll just make the custom crate ourselves!
At Root3 Labs, we take pride in solving hard problems for our clients. That may typically mean engineering challenges, but sometimes it means things like shipping and handling! We tackle every challenge with the same attitude and desired outcome – a solved problem. With 800 pounds of equipment and materials shipped over 700 miles cross-country successfully, we'll consider this problem solved.