Welcome to '10 Questions with Root3 Labs',  a Root3 series where we take some time and give the spotlight to one of our team members to share a little about themselves, their work, and a little advice for other engineers. This month's edition features Mechanical Engineering student and summer intern, Alpha Bah.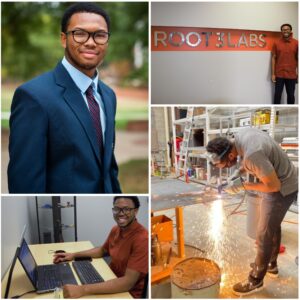 Alpha is a rising Junior Mechanical Engineering student at the University of Maryland. His main interests are in product development, design process, and learning as much as possible about every aspect of engineering that he can. More recently, Alpha has developed a desire to learn and implement sustainable and ethical practices into his engineering work. He has also been working on building a robot arm in his leisure time just for fun and learning more about topics and skills that pique his interest. Other than that, in his free time, he enjoys listening to/making music, skating (both roller skating and skateboarding), and film/photography.
Mr. Bah… 
1. If you could only have three apps on your smartphone, which would you pick?
YouTube is my number one pick. I can find entertainment, learn new things, listen to music, and do so much more on it. After that I'd have to say google maps so I can get places, and then the messaging app so I can talk to people. If I had to choose bench players, I'd say Facetime as well as the notes app.
2. In what ways would you like to create value as an intern?
I would like to create value by making everyone else's jobs easier where I can. I am only here for so long and a lot of that time is spent learning things, so anytime I can use what I've learned to help someone else and give them the freedom to apply their talent and skills in a more productive way, I try to do that.
3. Why did you pick your major?
Before I picked Mechanical Engineering, I was interested in every other major. but after looking at the courses for each, I saw Mechanical as the best one to keep my options open and give me the skills I need to go and learn another engineering discipline if I choose to later in life. So far I love it and I like that I can dip my toes a bit into different areas as I figure out what I want to focus on.
4. Do you see the glass as half empty or half full?
I see it as half full, but also I think it doesn't really matter what you see the glass as, all that matters is whichever one helps motivate you to get that glass filled up!
5. What's something you've done, but will never do again?
I once took an architectural design class to see if it was something I was interested in pursuing as a career. While I learned a lot of interesting concepts and it heavily influenced the way I think about and approach the design process (even beyond just engineering work!), It is NOT something I'd ever want to do as a career. Absolutely not.
6. What are some goals of yours after you graduate?
I don't really have many goals for after I graduate. I like taking things a day at a time and focusing on what I want/can do today and taking the opportunities I have right now. No matter how much you plan and set goals, you just never know what the future is going to bring so really I just am focused on doing as much as I can and enjoying what I do in the present so that I can set myself up to have the freedom to do what the future me wants. For a less confusing answer, right now my goal for the future is to just pursue what I want to do at that point in time.
7. What are some of your hobbies outside of work?
I am almost always listening to, making, or listening to podcasts about music. I also really enjoy skating, running, and taking pictures of landscapes and nature.
8. What's one thing you're currently trying to make a habit of?
Recently, I've been trying to make a habit of going to the gym. I'm busy a lot so it can be hard, but I really value my physical health so it's something I want to pick back up. On a similar note, I have also been trying to make a habit of eating a good breakfast every morning. It is the most important meal of the day!
9. Would you rather be able to play 10 different instruments beautifully or speak 10 different languages fluently?
I would choose to play 10 different instruments beautifully. While I value being able to speak other languages, I just think it would be so cool to play instruments and even choose some that are from other places in the world. If I could, then in a way I'd be able to speak to anyone through music.
10. Any advice for aspiring engineers?
While I am also still an aspiring engineer, for anyone considering it or at the beginning of their journey, I'd say If you really love it stick with it. It can be a lot of stress and difficult work and many times you will second guess if it is really for you. You will probably have times where you're learning a topic you don't really enjoy or are struggling with, but If you truly have love for the discipline, the moments where everything starts to click together and you are diving into a problem you find fascinating will feel so amazing.
Thank You to Alpha Bah for participating in this month's '10 Questions with Root3 Labs' series and stay tuned for more interviews with other employees with Root3 Labs.